Heaven Help Us achieves Hennessy's lifetime Cheltenham ambition
Cheltenham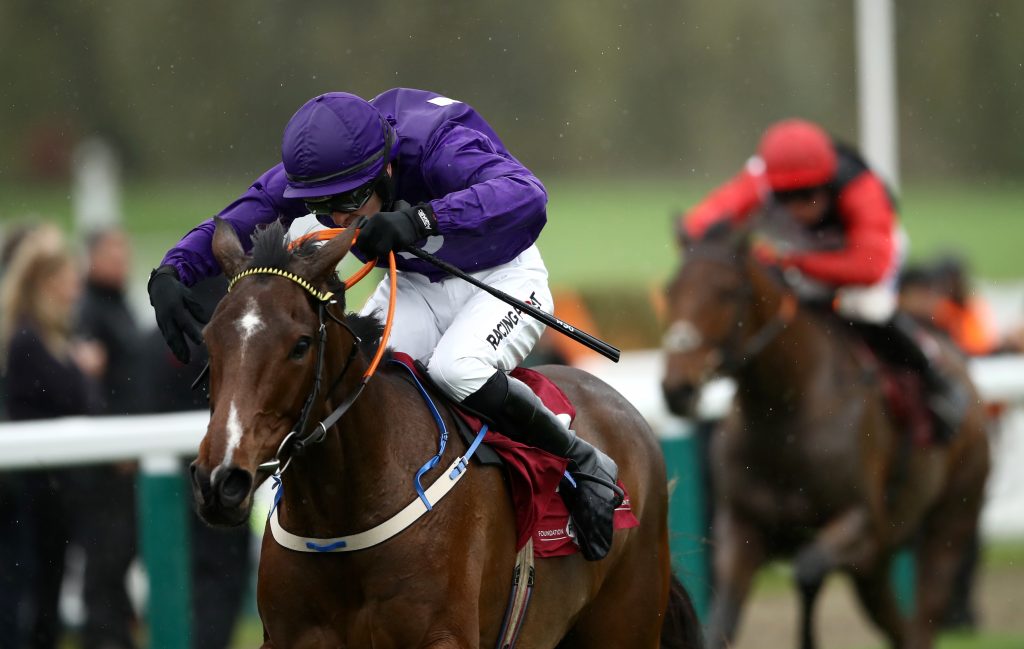 Greyhound guru treasures 'magical' victory on hallowed turf.
When Paul Hennessy lifted his second English Greyhound Derby title in June, the chances of him realising a lifetime ambition of training a winner at
Cheltenham
in the same year were virtually non-existent. Yet less than six months on from Derby glory with Priceless Blake at Nottingham, the County Kilkenny trainer has enjoyed the victory he thought would never come – after Heaven Help Us turned his dream into reality at Prestbury Park. Although Heaven Help Us scored last month in one of the more low-key contests staged on the hallowed Cheltenham turf, it is a moment that will forever be treasured by a man who has won many of greyhound racing's biggest prizes. Hennessy said: "I don't think there are words that can describe the feeling. It was just magical. That enclosure at Cheltenham – you have to earn the right to go in there. "Most people never get the chance to go in there, and for us to get the chance was phenomenal. It is every bit as special as everything we have achieved with the dogs. "I never in my wildest dreams thought I would have a runner at Cheltenham, let alone a winner. " As for most of those in attendance, victory for the 33-1 shot came as a surprise to Hennessy. He said: "We didn't expect her to win – although she had been working well, and last year I wanted her to experience running in those graded races. "Jumping the last, I thought the post would never come – because it is a long way up that hill. You start looking for that winning line when you are in front. " For Hennessy, there was no more appropriate person to help celebrate his Cheltenham triumph than long-standing owner and close friend John Turner. He added: "John has been a great supporter of mine – we won the Derby at Wimbledon together in 2016 with Jaytee Jet, and we are good buddies. "It's OK being great if they win, but he is equally as good when it goes pear-shaped – and that says a lot for a person and separates the men from the boys. " Although Hennessy has excelled in greyhound racing, he has always had a close association with horses – stretching back to when he was a boy rubbing shoulders with one of the best-known families in the game. He said: "Paddy Mullins and my father were neighbours. My mother is 92, and she said, 'you need to thank Maureen (Mullins)' – because every time they went to a gymkhana or pony school, they brought me along as well. "I spent more time at the Mullins' than I did at home! "We all grew up together, and I suppose that is where the interest in the horses came – because then George, Tom, Tony, Willie and Sandra were all into them. I picked up on that from there. " Hennessy also had first-hand dealings with another of racing's most famous families – when he took his first tentative steps into the sport back in 2011. He said: "We had a horse called Cheers Buddy and decided to train him ourselves and have a bit of craic. "Joseph O'Brien rode him at Dundalk one evening and won on him – then Seamie Heffernan won on him at Gowran Park a few days later. "Joseph was only a young fellow, still claiming at the time. That was a great thrill as well, because it was our first winner from our first runner. " Another trip to Britain beckons for Heaven Help Us, with Hennessy – thanks to input from winning rider Danny Mullins – earmarking the Listed Ladbrokes Mares' Novices' Hurdle at Newbury on November 30 as her next target. He said: "Danny is a brilliant young man – I can't speak highly enough of him, and he gave the mare a great ride. When I want a bit of advice or help, I send him a text, and he is there. "Special mention must also go to Niall Prendergast. He does most of the work with them. We get on well and discuss this, that and other – and usually do what Niall says!" With one Cheltenham triumph already in the locker, a return for the Festival in March is very much the long-term aim for Heaven Help Us – providing all goes well throughout the winter. Hennessy said: "The enormity of Cheltenham to National Hunt racing fans in Ireland is huge – it is the be all and end all. Cheltenham has this wonder and romance that goes with it. "Everyone that breeds a horse in Ireland hopes to have a connection with Cheltenham. It is just something that is usually not attainable, and for us to be blessed going over and having a winner is just fantastic. "It would be unbelievable to come back to the Cheltenham Festival. We will aim for the mares' novice hurdle. We will see how it goes in between – and hopefully, we don't mess her up in the meantime."
Follow us on Twitter racing365dotcom and like our Facebook page.